Built on Faith
"I see life as both a gift and a responsibility. My responsibility is to use what God has given me to help His people in need."
-Millard Fuller




Founder, Habitat for Humanity
The work of Habitat for Humanity is driven by the desire to give tangible expression to God's love through the work of eliminating poverty housing. We were built on a foundation of faith, and we continue to partner with individuals of all faiths as well as those of no faith. Our ministry provides an opportunity for people to put their faith and love into action and to bring diverse groups of people together to build homes and community.
Faith Relations meetings take place three times a year, and all are welcome to attend. Together, we will discuss ways that our local congregations can become involved in fundraising, building, and advocating for the work of Habitat in our community, and then work to put those ideas into action.
If you're interested in being part of Faith Relations at Habitat Collier, sign up for our emails or contact Andrea.
Get Connected
Sign up to stay informed about upcoming meetings and events.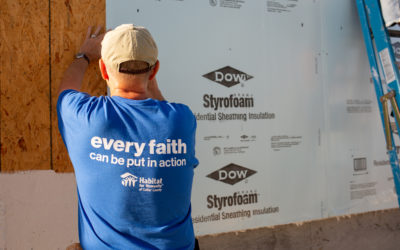 Faith in Action: Clergy Build 2019For the second consecutive year, faith leaders from various Collier County congregations joined together to make a difference through Habitat for Humanity of Collier County. Click play below to see for yourself just what putting faith...
read more
First Presbyterian Church, one of our four founding partner churches, was out in force building the homes of two grateful families on a beautiful October morning. For 40 years, since Habitat Collier began in 1978, we have been blessed with the partnerships of...
read more