The first donation of Habitat Collier's new fiscal year came from an unexpected contributor. Elijah Shumaker, age 5½, brought in a Ziploc bag filled with the money he had been saving for his family's Florida vacation to donate.
"When Elijah found out that we were going to Florida he started saving money. We figured it was for souvenirs, but when we asked him what he was going to do with it he said he was going to give it to people who needed it in Florida," said Laura Shumaker, Elijah's mother.
"What a priceless gift! Thank you, Elijah for sharing your gift of hope so that other children can have a safe place to live and grow!" said the Reverend Lisa Lefkow, Executive Vice-President of Habitat for Humanity of Collier County.
5-Year-Old Donor Meets a 5-Year-Old Homeowner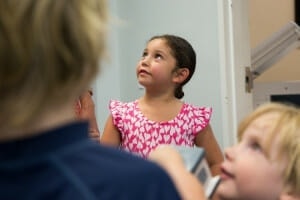 Rev. Lisa Lefkow saw another special opportunity for young Elijah. Haven, age 5¾, who was by chance nearby, introduced herself to Elijah as a person whose family benefited from the generosity of donors like him.
"Elijah is growing up immersed in a culture of giving and we are delighted to have been able to introduce him to a little girl who was exactly his age and just moved into a Habitat house," Rev. Lefkow said.
Haven was able to meet the entire Shumaker family, including Elijah's father Michael and Uriah, his little brother. "Elijah was very excited to show Habitat for Humanity to his brother," Laura Shumaker said.
Donations: A Life Long Tradition
Although Elijah's gift is the first donation registered within Habitat Collier's new fiscal year, it is actually his second donation to the organization. Elijah made his first gift to Habitat Collier two years ago during his first vacation to Florida.
"He was three and a half," Laura Shumaker said. "I don't know where he got the idea from—in church they talk about giving, and we do, so maybe it was from that."
Elijah understands that every gift to Habitat Collier makes a measurable difference in the lives of Collier County's children and families.