Volunteer with us!
Within the mission and ministry of Habitat for Humanity there is a place for everyone to share their time, talents and treasure. Some volunteers pound nails or use a paintbrush, others participate in family selection or work in our ReStores. Each person is vital to our mission of eliminating poverty housing in Collier County.
Read on for more information about volunteering on our job site, or if you're interested in non-building opportunities, please reach out to us directly.
Volunteer Check-In
Click the button to sign in when your volunteer shift begins.
The hours you track help us plan, apply for grants, and recognize your hard work! Please check in every time you volunteer.
Get Connected With Our Volunteer Program

Questions?
Our Volunteer Coordinator can help!
Barbara St. Fleur
Volunteer Coordinator
VolunteerHabitat@HabitatCollier.org
239-775-0036
Sign up for our email list and learn about Habitat's job opportunities on and off the construction site.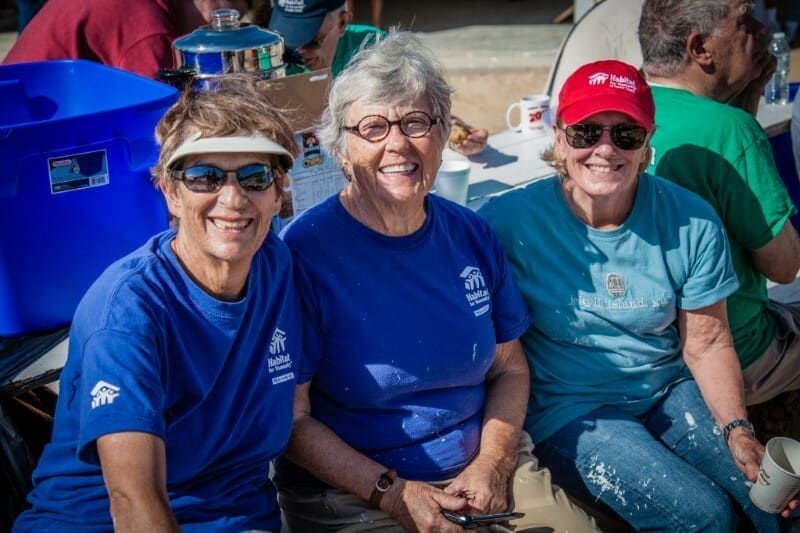 Whether you're 18 or 80, we guarantee there is a role for you if you're looking to give your time. We have jobs for everyone, and we plan to get you involved in the job that maximizes your abilities and helps guide our mission forward.
And not all Habitat Collier volunteer jobs are on the job site! Whether you're comfortable at a computer, interested in retail, or looking to work more closely with our partner families, there are a wide variety of opportunities to give your time and make a difference in the community. 
Opportunities
Construction
Office Volunteering
Selection Committee
ESL Tutoring

Teaching & Mentoring
Mission Committee
Whether you like to raise walls, hang siding, paint, or learn something new, we're always looking for extra hands on the job site. Volunteer opportunities are currently available in both Naples and Immokalee.
From greeting and working with customers on the sales floor and arranging merchandise to preparing donated items for sale and even helping with building maintenance, there are positions available for everyone.
Volunteers with special skills are a big help in our mission. Many lend a hand with filing and data entry, others lead pre-purchase courses, and some become ESL tutors. Call or email to ask about these roles.
Construction: The Basics
All are welcome and no experience is required to lend a hand on our job sites. Traditionally, we separate our job site volunteers and construction staff into three groups: Framers, Siders and Painters.
FRAMERS
Framers frame homes and handle preliminary pieces of construction and heavy lifting as walls go up. This is the most intense physical labor on the job site.
SIDERS
Siders put up siding and soffits, blue boards and install windows. This is a moderate -level role that covers all tasks between the beginning and end phases of building.
PAINTERS
Painters paint exterior trim and interior walls and tackle finish tasks like caulking and laying vinyl floor tiles. This is the lightest physical work on the job site.
Do what's comfortable for you— whether that's shorts and sneakers or jeans and steel-toed boots. We just ask that you wear closed-toe shoes and clothes you don't mind getting dirty.

Pro-tips
Don't leave home without it: sunscreen and bug spray could make or break your volunteer day!
Accessorize: think hats, bandanas, and sunglasses.
Check the weather: Will it rain? How hot will it be?
Naples Construction
Tuesday – Friday
7:45 a.m. to 12:00 p.m.
Current Jobsites:
Immokalee Construction
Monday – Thursday & Saturday
7:45 a.m. to 12:00 p.m.

Current Jobsite:
Kaicasa
located on SR 29, immediately southeast of Farm Workers Village. A street address has not yet populated in mapping services, but the subdivision does register on Google Maps through the link below or by simply typing in 'Kaicasa' in the app.
Google Maps