During his lifetime, Charles Lake made faithful gifts to Habitat for Humanity of Collier County through his family foundation. Upon his passing in 2006, he left a gift in his estate that would change lives for generations. His forward thinking generosity helped Habitat Collier to purchase and prepare a parcel of land. It is in his honor that our North Naples neighborhood, Legacy Lakes, is named.
Year after year, estate gifts prove to be critical in sustaining the work of Habitat in Collier County. Within the community of Legacy Lakes, seven homes were made possible thanks to estate gifts received in fiscal year 2016. Thank you to these remarkable Legacy Builders who had the passion and vision to build beyond their lifetime: Marian Boller, Nancy B. Cann, Betty & Ted Ely, Eleanor Shelly, Fran Strohm and R. Kingman Webster.
Because of these individuals and their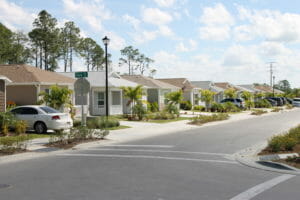 commitment to the prosperity of the community they love, seven families now have a safe and decent place to call home. Their passion lives on through the families whose lives their generosity has forever changed.
Creating your own lasting legacy with Habitat Collier is possible through estate planning. Planned giving allows anyone concerned with the wise use of his or her personal resources to make a thoughtful choice about their ultimate disposition. If you have included Habitat Collier in your financial or estate plans, or are planning to do so, we would love to know. Knowledge of your legacy commitment allows us to honor you as part of our Legacy Builder Society and helps Habitat Collier plan for the future.