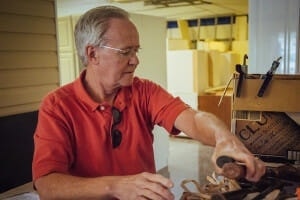 For 22 years, the hammers, boxes of nails and saws that Doug Ramsay found in his father's car trunk helped build dozens of Habitat for Humanity houses in Immokalee.
"I can't think of a better place for these tools to go," he said as he unloaded a box filled with everything from assorted tools to drill bits to nails still in the aprons to tool belts straight from a Habitat job site.
Bill Ramsay, a former Habitat Collier board member and longtime volunteer died in June at 92, and now the tools he used to change lives will go on sale at the new Habitat Collier ReStore in North Naples, which opens Dec. 3.
"This is where he would have wanted them to go. Habitat was such a big part of his life."
From Tools to New Homes for Hardworking Families in Collier County
The money from the sale of these items at the new ReStore will help Habitat Collier build even more affordable homes. Collier County is in an affordable housing crisis, with more and more local residents, some of them homeless or living in crowded homes with family and friends, seeking out Habitat to apply for Habitat-built homes.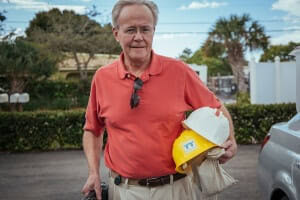 The grand opening of the new store located at 5430 Yahl St. will happen at 10 a.m. on Thursday, Dec. 3. The store will be open from 10 a.m. to 6 p.m. Monday through Friday, and 10 a.m. to 4 p.m. on Saturdays.
The ReStore will sell appliances, everything from washers and dryers to refrigerators, cabinets, doors, flooring, plumbing and lighting fixtures and just about everything found in a home improvement store. The Habitat Home Store at 11127 Tamiami Trail E. will remain open and carry its usual collection of gently-used furniture and home accessories.
Donations such as the tool collection from the Ramsay's will make a difference.
His Tools Help Leave a Lasting Legacy
Bill Ramsay, a retired telephone company executive from Boston, started volunteering when he moved to Naples with friends from Wyndemere and Royal Wood Country Club. His son said he did most of his Habitat volunteer recruiting on the golf course. He was part of the Thursday crew at the job sites in Immokalee.
"He was a leader, very organized," his son said. Along with a bag full of volunteer T-shirts and some Habitat bumper stickers and license plates, Doug Ramsay discovered a white binder that spelled out, in detail and complete with blueprints, how to build a Habitat home.
"He loved to do it all," he said.
To donate to the new ReStore, call 239-732-6388. To volunteer, donate or learn about applying for a Habitat-built home, call 239-775-0036.