Hideaway Beach Club of Marco Island is proud to partner with Habitat for Humanity of Collier County to make homeownership possible for hard-working families in our community. For the second year, Hideaway's participation in the Community Contribution Tax Credit Program (CCTCP) will make the American Dream possible by helping to fund and build homes for two deserving local families. These families undergo an exhaustive application process before being selected to partner with Habitat. After investing 500 hours of "sweat equity", each family will purchase their home with a no-interest loan held by Habitat.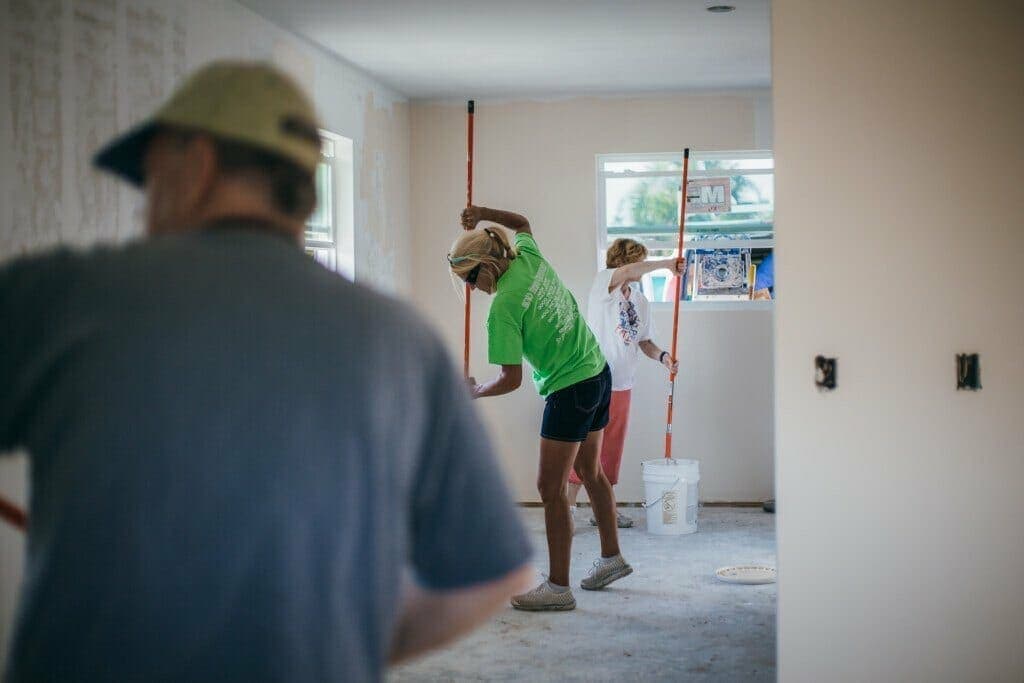 Last year Jose and Maria were desperate to escape the untenable conditions in which they were living with their 16 year-old daughter. These were some of the worst conditions our selection committee had ever seen. Their aging trailer was literally falling apart around them. With the floor rotting out, they had to stand on a board to take showers. Faulty air conditioning allowed the trailer to fill with mold and mildew. Jose had a bone marrow transplant several years ago and the conditions of the trailer were a continuing detriment to his health. Maria works two jobs to help support the family but homeownership seemed completely out of reach. Today, the family has a beautiful home of their own thanks to the support of Hideaway Beach Club.
Hideaway is Committed to Making a Life-changing Difference for Area Families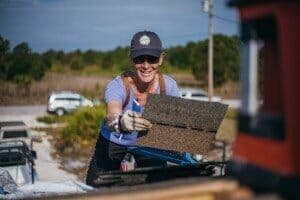 On Friday, April 15, 24 members of Hideaway Beach Club came out to the Habitat jobsite to work on two new homes. One crew completed siding and roofing while the other painted the interior of a home. Claire Babrowski, retired executive and three times named among the 50 Most Powerful Women by Fortune, led the Hideaway team.
Claire commented "Hideaway Beach Club recognizes the dilemma faced by service industry workers supporting Marco Island businesses. These workers support year-round and seasonal residents as well as tourism in this beautiful setting but struggle to find safe and decent housing. We are committed to making a life-changing difference for these families as they work hard to break the cycle of poverty and provide for their children. "
The state funded CCTCP initiative encourages businesses that collect and remit state sales tax to partner with those who provide affordable housing.  Businesses commit to volunteer hours and to funding the construction materials for each home, providing a critical revenue stream as Habitat Collier struggles to address the escalating need in our community.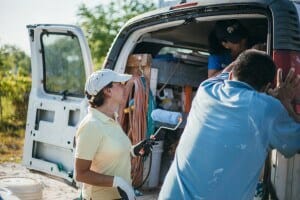 "With 15 families applying for each home we fund and build, the CCTCP is the perfect vehicle for local business to have a tangible impact on the affordable housing crisis. With rents continually rising and wages remaining stagnant, the number of people coming to Habitat's office to inquire about a home has skyrocketed" said Rev. Lisa Lefkow, Executive Director at Habitat Collier.
Rev. Lefkow went on to say "We are so grateful for partners such as Hideaway Beach Club and their members who make this investment in the lives of their neighbors. We are especially grateful for support from those on Marco Island. Over the last five years, on average 8 families working on the Island partnered with Habitat to make their dream of homeownership come true. Currently 25 Marco Island businesses employ 75 Habitat homeowners. "
Brittney and Ismil's Family
One family of six will benefit from Hideaway's efforts this year. Brittney and Ismil came to Habitat looking to provide a stable foundation for their four children. Their young son, not yet two years old, has undergone several open-heart surgeries and more are needed. Ismil became disabled, receiving major burns and losing a thumb and use of his fingers from a work accident.
While working her "sweat equity" hours, Brittney asked if she could offer a few of her hours to another home owner working hard to complete her hours. The other future homeowner did not have family or friends to offer help. Even with the hardships that Brittney and her family face, she is willing to offer a hand-up to someone she knows needs it and will appreciate it.
Habitat Collier is grateful to Hideaway Beach Club and all of our partners for their continuing support of our vision, a world where everyone has a simple, decent place to live.
Hideaway Beach Club is dedicated to creating a sense of community among its members by providing the highest quality services and facilities within a secure living environment in a fiscally responsible manner, while fostering an effective working relationship with the City of Marco Island and Collier County. We are committed to preserving and protecting Hideaway Beach Club's unique natural beauty while advancing it as one of the finest residential communities of its kind.
To learn about Habitat for Humanity of Collier County or the Community Contribution Tax Credit Program, contact us at 239-775-0036 or visit www.HabitatCollier.org to discover more.