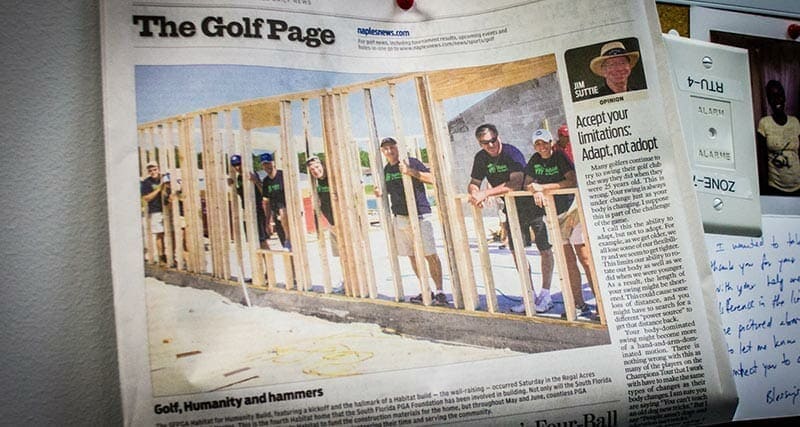 More than a dozen members of the South Florida Professional Golf Association gathered on May 2, 2015 to raise the walls on a Habitat home funded by the organization's foundation and members.  In a unique partnership, members of the South Florida PGA have been volunteering with Habitat for Humanity of Collier County throughout the home's construction.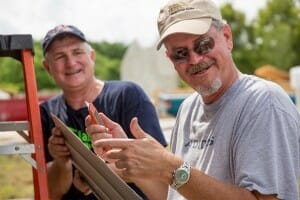 "We are very grateful to the South Florida PGA and the high-profile visibility that this partnership brings to Habitat for Humanity's work in Collier County.  The strong local golfing community relies upon course maintenance workers, club kitchen staff, landscapers and housekeepers, many of whom are Habitat homeowners or seeking affordable homeownership opportunities.  Working with the South Florida PGA is simply a natural fit," said Lisa Lefkow, Executive Vice-President of Habitat Collier.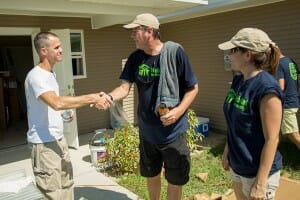 To realize their dream of providing a home for a hardworking family in need of decent and affordable housing in Collier County, the South Florida PGA made a $50,000 donation to Habitat for Humanity. The generous donation funded the construction materials for the newly built home.  The wall-raising marked the beginning of the group's fourth Habitat for Humanity home built in South Florida.
"Our ultimate goal is to build a home in each county in which the South Florida PGA operates," says South Florida PGA Foundation President Tom Wildenhaus while out on the jobsite.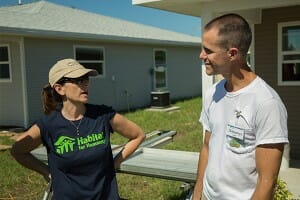 Working side by side with the family who will eventually purchase the home with a no-interest mortgage, South Florida PGA has had the opportunity to see firsthand the impact their contribution will have on the life of a local family.
Dohannys and Alina want to provide a permanent home for their two daughters, ages 4 and 2, so the girls will stop asking "why do we have to leave?"  Their parents were forced to move frequently, as rents continued to rise even for small space, sub-standard apartments.  Their dream of providing the stability of a loving home for their girls will be realized through the generosity of South Florida PGA.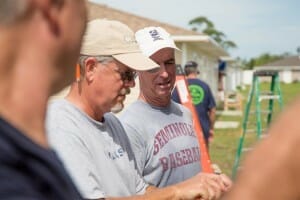 "We are extremely excited about our build this summer, and what we have been able to accomplish the last four years.  Having the ability to make a large monetary contribution, in addition to getting our members involved in the community to help others has been our goal since 2011," says SFPGA Foundation President Tom Wildenhaus, PGA.
Since 1978, Habitat Collier has built more than 1,800 homes in the Naples and Immokalee areas. Habitat for Humanity of Collier County is part of a global, non-profit housing organization operated on Christian principles. Building homes, communities and hope, the goal is to give families a "hand up" and help them buy safe, decent, affordable housing.  It is one of the oldest and most successful affiliates in the world.
Please visit www.sfpgagolf.com/foundation/programs-supported/habitat-for-humanity/ for more information about the South Florida PGA Foundation Habitat Build.