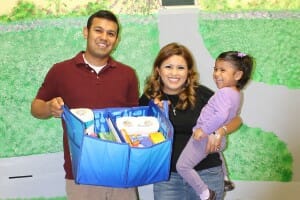 Community partnerships strengthen families and their ability to succeed, and for the past 10 years, Procter & Gamble has been a faithful partner with Habitat for Humanity. Proctor & Gamble, the parent company of Mr. Clean, Swiffer, Bounty, Charmin and Tide, has provided new Habitat homeowners with move-in kits filled with various home care products on the day of their closing.
Javier and Maria Sendejas were struggling to provide a safe and decent home for their young daughter when they turned to Habitat Collier for a hand up. They were renting a one bedroom, one bath efficiency with a one car garage converted into living space. Despite these challenging and overcrowded conditions their home was clean and tidy. In kind, the Sendejas family was overjoyed to accept Proctor & Gamble's gift of household cleaning products at their closing.
"P&G brands have always been in the business of helping families keep their houses clean and feeling like home. Through our partnership with Habitat for Humanity, we're bringing that same pride and comfort to families in need of secure housing," said Steve Bishop, P&G group president and Habitat supporter.
Habitat Collier values the ongoing support provided by Proctor & Gamble and looks forward to many more families enjoying the benefits of our partnership.