Remembering Dr. Sam
Known to many as simply Dr. Sam, longtime Habitat Collier CEO Dr. Sam Durso had an immense impact on Collier County through his work with deserving Habitat partner families. His passing in 2017 at the age of 71 after a battle with cancer was felt deeply throughout this organization and our community. In December of 2014, Sam was diagnosed with a glioblastoma brain tumor. With his usual determination and moxie, Sam fought hard and lived long beyond the usual prognosis for those with similar diagnoses. Sadly, Sam passed away on the evening of January 10, 2017, surrounded by family. His contributions to the success of Habitat for Humanity of Collier County are immeasurable and he is greatly missed by so many.
"Sam Durso was one of the most extraordinary people I've met" said Lisa Lefkow, Executive Director of Habitat for Humanity. "His passion was rivaled only by his determination to do everything that he could to make this organization the very best that it could be… changing the lives and futures for thousands of people. His vision saw far beyond what was obvious to what was possible and onto the brink of what was hard to imagine. It was there that he would focus his energy and challenge all around him to join him in making that extraordinary difference. He leaves a tremendous legacy and his impact will be felt for generations to come."
After graduating in 1966 from the College of Holy Cross, Dr. Sam Durso studied medicine at Tufts University. He had a very successful dermatology practice in N. Andover, Massachusetts, which he sold at the age of 48. He and his late wife, Mary Ann, then retired to Marco Island where, in 1993, Sam worked on the 100th Habitat home built in Collier County and developed a case of what he called "infectious Habi-titus." From that day on, he worked tirelessly on behalf of hard working, low-wage earning families to ensure that they had a simple, decent place to live. Sam served as President and CEO of Habitat for Humanity of Collier County in a full-time volunteer capacity since 1999.
As someone who truly saw the big picture, Sam developed a highly efficient construction operation and  instituted an effective fund-raising plan. Sam's dedication was the driving force behind the growth of Habitat Collier, helping us to grow from building  20 homes a year in 1996 to an average of 100 homes per year for each of the last 15 years. This accomplishment places the Habitat Collier as one of the top producing Habitat affiliates in the United States. Habitat for Humanity has provided shelter for nearly 10,000 people who now live in more than 1,900 Habitat homes in Collier County.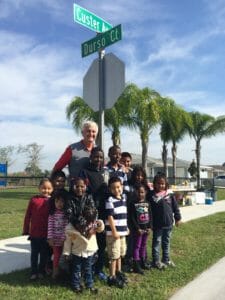 Sam's impact through Habitat was not limited only to Collier County. Serving on Habitat's U.S. Council, Sam provided guidance and support to affiliates throughout the county. His role as Chairman of the Florida Affiliates led to greater productivity and partnership among Habitat affiliates throughout the state. Sam's inspirational leadership was recognized by former Governor Jeb Bush, who honored him with the Governor's Point of Light award. In 2003, he and Mary Ann were selected as the first of Habitat for Humanity International's Volunteers of the Year. They were also the first recipients of the Naples Daily News Jefferson Award recognizing outstanding public service.
Sam will be missed by his extended family, his many dear friends, the thousands of individuals living in Habitat homes, and the volunteers and donors who have supported Habitat for Humanity of Collier County.
On Saturday, March 18, 2017, Habitat for Humanity of Collier County raised the walls on its 2,000th home. The home, funded by a gift from Dr. Durso, was built in his honor and stands as tribute to his amazing legacy.