The current affordable housing crisis in Collier County has been particularly detrimental to low wage earning families and their dreams of owning a safe, decent place to call home. Making matters worse, the crisis empowers many landlords to raise rents, refuse services, and bully tenants. These increased tensions complicate the lives of families and the struggles they face just trying to get by in Collier County, where affordable housing has become virtually non-existent.

From Decent Housing to Substandard Housing
In order to renew her lease, Stephanie was required  to provide information about her income. "Working and raising my son, I spent the last two years putting together savings so I could go to school," says Stephanie. In her second semester, she had long left her job and was in a full-time nursing program. "Because I wasn't able to provide income verification, my son and I were out on the street."
"It's definitely the worst way I've lived before," says Stephanie, "but it's better than no home."
Making Do With What They Had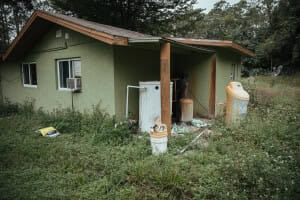 That's how Stephanie ended up in the substandard housing that merited Habitat for Humanity of Collier County's intervention. Down almost two miles of treacherous dirt roads, nearly impossible to navigate, is the mold infested, dilapidated place that Stephanie and her son call home.
Instilled with a strong work ethic and hoping for a better home for her son, Stephanie set out to make what she could out of this terrible condition. "I replaced all the door knobs, put down a floor, bought a washer and dryer, painted the kitchen, fixed the bathroom, and reworked some of the electrical," says Stephanie.
Never having hot water there, Stephanie had been heating water on the stove to bathe her son. But there was a glimmer of hope, even in this situation of despair. "Randomly, the hot water started working," she says. "I don't know how. I think it was maybe God's way of congratulating me on graduating school."
Making Even The Worst Place Into a Home
Stephanie was doing what she could to make the best out of a bad situation
. "I was excited to finally be working, again," says Stephanie, "and we made this our home."
Unfortunately, things took a turn for the worse. "Something went wrong with the electrical work outside and caused the water pump to burn out," says Stephanie. "We went without water for almost two months."
Rather than provide repair, Stephanie's landlord made an offer, that was more like an ultimatum. Stephanie would have to make catastrophic repairs, and with proof of receipt, he would discount her rent by that amount. "I replaced the plumbing myself, with the help of my dad, for $1,300," says Stephanie, "but when my landlord saw the bill, he flipped."
"He didn't even say anything," Stephanie says about her landlord. "He texted and said, 'I hope this isn't a problem, but I need you out in two weeks.' I just didn't know what to do."
Thanks to her determination and the generosity of Habitat's donors and dedicated volunteers, Stephanie will soon be blessed with the safety and security that comes with homeownership. Stephanie was fortunate to be approved for a Habitat home due to her extreme need but for every home Habitat has funds to build, 15 families apply. We are so grateful to all who support Habitat's vision, a world where everyone has a decent place to live.
[button-green url="https://www.habitatcollier.org/make-a-donation/" target="" position="center"]Take a Stand Against Slum Lords by Making a Donation[/button-green]