Off a Dirt Road
Off to the side of a dirt road in Immokalee, a single number hangs from a washed out sign designating the address of four dilapidated trailers clustered in a field, one of which three generations of the Hipolita and Jose's family call home.
Raised up by cinder blocks, the trailer is elevated from the standing water that permeates the field in which the trailers sit. This marsh offers an unparalleled breeding ground for mosquitoes and other insects, underscoring a backyard that cannot be walked through, much less played in.
With only two bedrooms made from warped plywood, three generations of the Hipolita and Jose's family had been praying for relief from the substandard housing they had been trapped by for over ten years.
"It's not ideal, but we've made it work. The thing I'm looking forward to the most is for everybody to have their own space," says Hipolita, the graceful matriarch of this family. "All I want is for them to be happy and have their own rooms and have a place to study."
Cramped Home With High Rent
Hipolita and her husband Jose sacrificially gave up their own privacy for the sake of their children by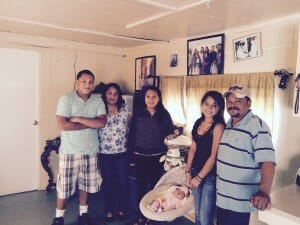 sleeping on a sofa bed in the living room. They humbly do this to offer the little remaining space to their daughters, one of whom struggles to fit her baby daughter's crib into her room. Perhaps the saddest case is fifteen-year-old Jose who sleeps in a converted storage room.
Despite the substandard living conditions, including crowded circumstances, the Hipolita and Jose pay an astounding $700 a month in rent. The cramped home has no central air conditioning, and there are only small fans throughout the trailer to help with the sweltering heat.
"The heat in here gets to be nearly unbearable when I start to cook," says Hipolita.
Help Three Generations Build A New Home
Recently approved as a Habitat for Humanity partner family, the Hipolita and Jose's family is excited to purchase their first home. With their sweat equity nearly completed, the family is now relying on generous donors in the community to underwrite their at-cost, interest-free mortgage. Help build the Hipolita and Jose's family's dreams by making a gift today.
Change Lives. Build Dreams.
Help this Deserving Family by Making a Gift Below: