Investment Will Support the Cost of Infrastructure in Community of 55 Affordable Homes
Habitat for Humanity of Collier County is pleased to announce that it has been awarded $50,000 from Wells Fargo to assist with infrastructure costs in the newest of the organization's affordable housing development in Naples.
In each community Habitat Collier establishes, they must fund the road building, as well as the installation of water, power and sewer capabilities. Well Fargo's investment will support this work for the 55-home Legacy Lakes development to be built off Immokalee Road.
Wells Fargo is a longtime and valuable partner, investing in Habitat Collier with other donations adding up to more than $650,000 in the last four years.
"While infrastructure is not generally the most heartwarming part of the Habitat story, the truth is that funding for site development and utilities provides the foundation for each and every home and the stability that it provides," said Habitat Collier Executive Vice President Nick Kouloheras. "We are thankful to Wells Fargo for sharing that vision."
Wells Fargo has made a $6 million commitment to neighborhood revitalization by making grants to 69 nonprofits.
The donation to Habitat Collier is part The 2015 Wells Fargo Housing Foundation Priority Markets Program which provides grants for neighborhood stabilization projects to stimulate growth, stability and investment in distressed areas. Since 2009, the program has provided grants totaling more than $36 million for nonprofits in 125 U.S. communities.
"Wells Fargo is pleased to support these nonprofits that are leading efforts to revitalize and position neighborhoods for long-term success," said Martin Sundquist, executive director of the Wells Fargo Housing Foundation in a statement. "The Priority Markets Program is one of thousands of ways we work together with nonprofits to support local communities."
This award comes at a time when affordable housing availability in Collier County has again become a critical problem. Collier County families are struggling to pay high rents and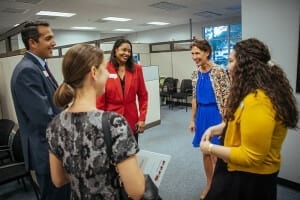 support their families. Some are being forced into homelessness. The number of people coming in to apply for Habitat-built homes is on the rise, up from 10 applications for every one home to 15 applications per house being built.
Habitat Collier is also seeking donations to help buy more land to build more homes. While the organization has the volunteers, it is in desperate need of more land to fill the need of those seeking safe, affordable housing.